Vocal Bungee Jumping are just 2 of many wonderful 8 day workshops happening Creative Arts Week in Harrison, Maine in August of 2020. Workshops include a wide range of creative exploration experiences for adults in the serene and rejuvenating environment of Long Lake in Harrison Maine. Find out more HERE: https://www.newfound-owatonna.com/creative-arts
"As always a beautiful week of sharing, inspiration, learning, and growing. All the staff were so helpful and the teachers outstanding! You can't beat the lake — fresh air, sunrise and sunset, loons, ever changing but always incredibly peaceful — 7 stars!"
"Very knowledgeable teachers who have lots of experience in their mediums, and were very encouraging, helpful, and willing to share."
Pitch and Tone in the Vocal Zone
Pitch & Tone in the Vocal Zone: Landing your rhythms and tempering your tones toward confident singing.   AUGUST 25 - SEPT 1
Have you always wanted to sing freely — alone or with others — but find you sometimes struggle with tonality or rhythm? This is the class for you! We'll take delight in accessing the amazing power of the steady beat – the glue to all music. We'll explore our natural ability to hear and reproduce pitch, recognize intervals (what's an interval?), and put melodies together like pearls on a string. We'll play with body rhythms, beatbox mouth music, and hone our ability to blend with others. Music really is the "rhythm of the head head and heart," and we'll discover how as we play singing games, sing familiar songs together and create a few of our own in the moment as well.  
Note: This class is for beginners as well as those wishing to become more confident singers. Reading music is not required.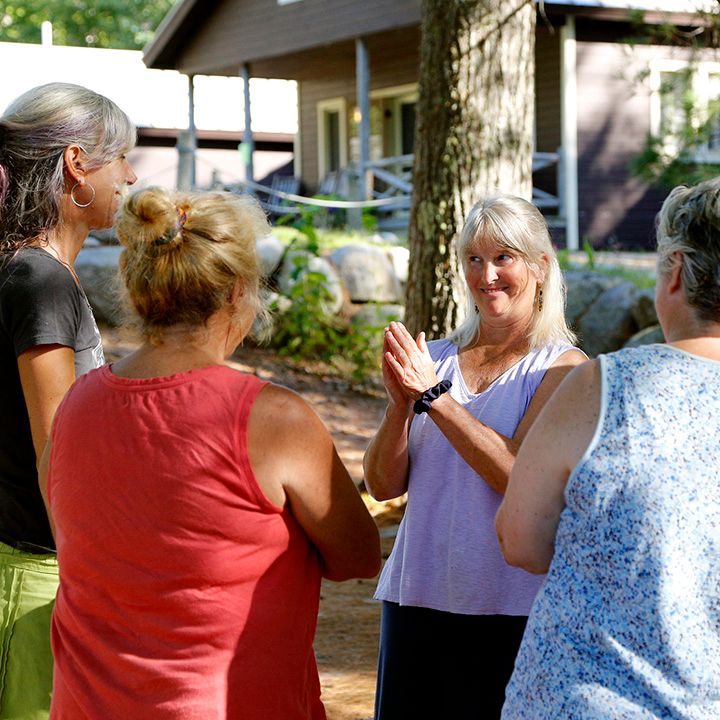 Vocal Bungee Jumping:
Spirited sing-out sessions to unlock your wild & wonderful voice. August 25 - September 1
Singing-out is the most natural thing in the world. Come banish the myth of the timid singer as we take the leap into this high-energy singing adventure.
This class is chocked full of delightful, co-created vocal forms, games, and spontaneous singing activities designed to unlock your amazing, natural voice. Through call & response, body rhythms, and other musical practices designed to gently challenge you as you are ready, we'll explore the connections between movement and singing. We'll experience the mystery, texture and technique of vocal improvisation, and address the barriers that discourage us from singing out. You'll be invited (never required) to solo sometimes — and also to create your own songs in the moment.
If you want to sing it strong, sing it wild, and sing it spontaneously, this is the instant choir for you!
Note: Some experience with singing and a strong sense of tonality and musicality are important for this class. Reading music is not required .
Singing ViGils
Community Singing
Belfast Creative Coalition presents an Arts Alive Community Singing Vigil on Friday Evening, December 7 from 7:00  –  9:00 PM following the downtown Art Walk.  The vigil circle holds forth in song without stopping for a full two hours to celebrate through light and song, the power of the Arts in all their forms to promote unity in community, economic vibrancy, creativity, and common ground in Belfast and the wider world.   Although the singing is continuous, there will be leaders who continue the singing while others drop in and out to rest or just listen.   We'll be in the beautiful indoor space overlooking the harbor. Hot cider will be served!
Events
Previous events
The Power of Words Conference 2017, Ferry Beach Park Association, Saco, Maine
Brio at Slates, 54 Village road, Hallowell, Maine
TBA